Take part in the RSPB's Big Garden Birdwatch 2023 to save our feathered friends
Watching garden visitors for just one hour in the Big Garden Birdwatch 2023 could help provide vital data to protect birds from the effects of climate change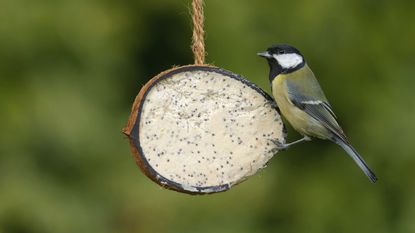 (Image credit: Nigel Gomersall/RSPB)
With precious birdlife facing ever greater challenges due to climate change decimating food supplies, every RSPB Big Garden Birdwatch matters.
In 2023 this annual event, organised by the conservation charity, will be the biggest garden wildlife event in the world with thousands of British people counting and noting the birds visiting gardens. Now in its 44th year, it's also more important than ever.
'The birds we see in our gardens, from our balconies, and in our parks, are a lively, colourful and endlessly fascinating part of all our lives, offering a real connection to the natural world,' says RSPB (Royal Society for the Protection of Birds) chief executive Beccy Speight.
Take part in the RSPB's Big Garden Birdwatch 2023
'By taking part in the Big Garden Birdwatch 2023 you, and hundreds of thousands like you, will play an important role in helping us understand how UK birds are doing. With birds now facing so many challenges due to the nature and climate emergency, every count matters. Join us for Big Garden Birdwatch 2023 and together let's take action to protect and preserve our birds and wildlife for generations to come.'
Nearly 7000,000 people noted down the birds they saw in the Big Garden Birdwatch 2022, counting 11 million birds in total, helping to provide vital data for the RSPB (opens in new tab).
The 2023 event takes place on January, 27, 28 and 29. People are asked to spend just one hour watching and recording the birds in their garden, balcony or local park, then send their results to the RSPB.
Beccy says: 'Whatever you see – one blackbird, 20 sparrows or no birds at all – it all counts. It helps us build that vital overall picture of how our garden birds are faring from one year to the next.'
Increase your bird sightings
To maximise your sightings, you might want to top up your bird feeders and fill the bird bath to the brim.
Ensure you don't make some common bird feeding mistakes, however. 'Remove old food and clean your feeders weekly, as disease can be a serious issue for some species,' says Beccy. 'Greenfinch numbers have massively dropped due to a disease that spreads around contaminated feeders and water bowls, and chaffinches are now struggling.'
If you don't have a garden, it's no problem. The RSPB says that even a small window feeder will attract more birds for your Big Garden Birdwatch, and you can even make your own bird feeder.
Help nature the organic way
Gail Pabst, spokesperson for the US National Garden Bureau (opens in new tab), says we should start hanging birdhouses instead of using pesticides, because this benefits the environment two-fold.
'Some 60 per cent of all birds depend on caterpillars and undesirable garden bugs for baby bird food. When we drop a can of pesticide on that wasp nest in the deck corner, you know you're going to miss. In the process, you'll contaminate your own living space with harmful chemicals. Instead of over-using chemicals, focus instead on encouraging birds into backyards.'
To get involved with the Big Garden Birdwatch, you can register online at the RSPB (opens in new tab) and do your bit to track how our feathered friends are getting on this year.
Jayne Dowle is an award-winning gardening, homes and property writer who writes for publications including Sunday Times Home, Times Bricks & Mortar, Grand Designs, House Beautiful and The Spectator. She was awarded the Garden Journalist of the Year accolade at the Property Press Awards in 2021.